Help promote your next event with flyers from Mountain Valley Printing!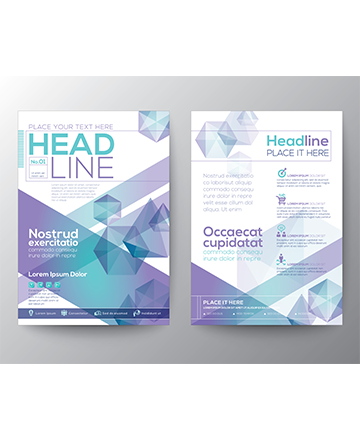 Advantages of Flyer Printing
Flyers are one of the most effective pieces of sales and marketing material, as they are informative, eye-catching and are something for your prospective customers to take with them. Perfect for sales packets, trade shows, and more!
Flyers are also commonly used to help promote events and promotions, and serve as a great compliment to a poster order. Use them as handouts, or hang them around the area to help spread your message!
About Mountain Valley Printing Flyer Prints
Whether you're promoting a product, event, or your organization, Mountain Valley Printing has you covered! Our flyers come in a number of different sizes and paper stocks with standard full-color printing. For a full list of the options available, check out our product features section!
Learn More
If you would like to learn more about our flyer options or would like a quote or custom template, please visit our Contact page to be put in touch with one of our representatives.
Standard Product Features
Most Common Sizes
4 x 6
5.5 x 8.5
8.5 x 11
11 x 17
Most Common Paper
9.5 pt Cardstock Matte
11 pt Cardstock Gloss
70# Text Gloss
24# Bond
Back Printing
Blank (No Printing)
Black
Full Color (CMYK)
Note: Additional sizes and printing options available upon request. Just visit our Contact page to be put in touch with a representative.