Bring your brand into the back office with quality printed notepads from Mountain Valley Printing.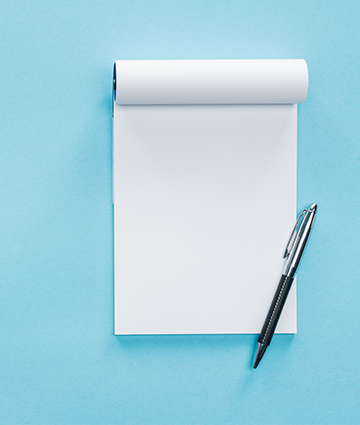 Advantages of Notepads
Don't settle for plain, boring notepads. Increase brand visibility for both your staff, as well as your network with a quality printed notepads. Customized notepads are typically minimalist, featuring a logo that is either watermarked or placed off to a corner of a page to maximize writing room. Any other information added is typically essential: a phone number, address, website or email, and perhaps a slogan for a personal touch.
While they may not seem like much, for a marketer with attention to detail, a custom notepad can be more than just a regular office product. Notepads are a great thing to throw into a sales packet, give away at a tradeshow or give to a vendor. They're a product that is constantly used, meaning that your company name and information are always present at the desk of your contacts. Think of notepads as a less personal, but more useful business card for your company.
About Mountain Valley Printing Notepads
Notepads are also obviously a great thing to have around your own office, and you can never have too many of them. If your company needs to purchase notepads, Mountain Valley Printing has a number of sizes and paper counts available. For a full list of the options we offer, check out our product features section.
Learn More
If you would like to learn more about our notepads or would like a quote or custom template, please contact us to be put in touch with one of our representatives.
Standard Product Features
Most Common Sizes
4.25 x 5.5
5.5 x 8.5
8.5 x 11
Back Printing
Full Color (CMYK)
Blank (No printing)
Note: Additional sizes and printing options available upon request. Just visit our Contact page to be put in touch with a representative.