Give your correspondence a clean, professional look with letterhead from Mountain Valley Printing.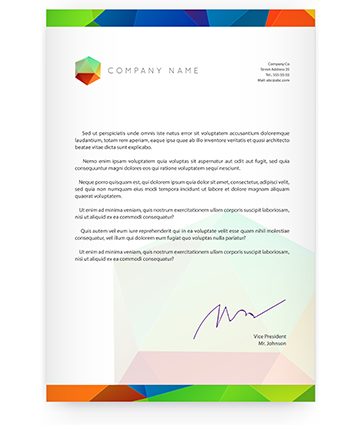 Advantages of Letterhead
Even in the digital age, letter writing is common practice for organizations around the world. With that in mind, letterhead is one of the most important components of a brand identity for any business. It is one of the few print products that is used at every level of a company, from correspondence with your customer base all the way up to the board room.
About Mountain Valley Printing Letterhead
Much like business cards, letterhead acts as a first impression for potential customers or contacts, and in many ways is a physical representation of your company. So quality is key. A good letterhead design is typically clean and minimalist, not to distract from the message it carries. Letterhead usually carries some combination of company name, logo and contact information, and occasionally a brief overview of services. Keep in mind that the function of letterhead is to write additional text on it, so it's best to keep design verbiage to a minimum.
Letterhead can serve a number of purposes, including official company correspondence (both internally and externally), direct mail campaigns, and public relations.
At Mountain Valley Printing, we only use the highest quality material to ensure that your letterhead gets the professional look and feel that your company deserves. We offer both full bleed and full-color printing in multiple sizes and paper stock. For a full list of our options check out our product features section.
Learn More
If you would like to learn more about our letterhead or would like a quote or custom template, please contact us to be put in touch with one of our representatives.
Standard Product Features
Most Common Paper
60/24# Uncoated
70/24# Uncoated
Front Printing
Full Color (CMYK)
Black Only
Back Printing
Full Color (CMYK)
Black
Blank (No printing)
Note: Additional sizes and printing options available upon request. Just visit our Contact page to be put in touch with a representative.