Collect orders from your customers with NCR forms from Mountain Valley Printing.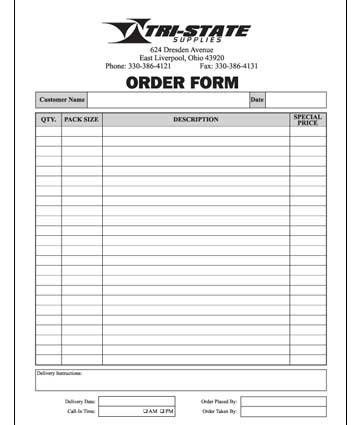 Advantages of NCR Forms
NCR forms, or carbonless forms, are one of the most common print products for companies in a a number of industries. NCR forms are printed on copy paper in multiple parts, with the purpose of transferring information written on the top sheet to the layers beneath it. They are commonly used to collect customer orders, while allowing the customer to also keep a copy.
About Mountain Valley Printing NCR Forms
NCR forms are typically unique to the business they serve, to collect the specific information that business and industry require. No matter what industry your company operates in, Mountain Valley Printing has you covered! Our NCR forms are custom-made to fit the unique needs of your business and your line of work. Our team of representatives works with each of our customers, helping them craft a custom template that fits all of the line items and content they require.
Learn More
If you would like to learn more about our NCR forms and printing options, or would like a quote on an order, please visit our Contact page to be put in touch with one of our representatives.<
Please Note:
NCR Forms are unique to the business and industry they serve. Due to this all orders are entirely custom. Mountain Valley Printing offers a wide range of options including industry-specific features such as barcoding, thermal/UV printing, prescription padding and more.
To begin planning out a form for your company, just visit our Contact page to be put in touch with a representative.